Eye Care Services From Your Montpelier, St. Johnsbury, Lancaster, or Littleton Optometrists
An eye care center should serve as a trusted resource for your loved ones, just like a family doctor or dentist. Shippee Family Eye Care provides a multitude of services to patients in Montpelier, St. Johnsbury, Lancaster and their surrounding communities. Our Montpelier, St. Johnsbury or Lancaster optometrists strive to bring you a lifetime's worth of care, including the widest possible range of services.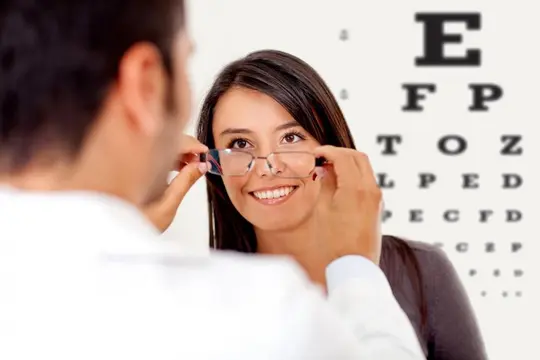 Our eye care services include:
Eye Exams - We can perform regular, comprehensive eye exams to check your eyes for any signs of diseases or functional disorders. We also administer visual acuity testing to see whether you may require corrective lenses for a refractive error.

Pediatric Examinations - Children need to have their eyes examined starting as early as 6 months of age and continuing through the school years. Our pediatric examinations and vision correction options can ensure healthier development and optimal academic success.

Diabetic Evaluation - One of the first indications that you have diabetes may come from changes within the eye known as diabetic retinopathy. We can alert you to possible diabetes, provide eye care as needed, and encourage you to control your condition with the aid of your family doctor.

Ocular Disease Treatment - In addition to diabetic retinopathy, we can also diagnose a variety of serious eye disease such as cataracts, macular degeneration and glaucoma. Many of these conditions can be slowed or arrested through medications and other treatments.

Vision Therapy - Exercises, prism lenses and other forms of vision therapy may be prescribed to treat eye weaknesses or communication problems between the eyes and the brain.

Contact Lens Fitting and Care - Your optometrist can administer a contact lens evaluation to measure your eye structures, help you choose the right lens type, and fit you with contacts that suit your lifestyle perfectly.

Emergency Care - Foreign bodies in the eye, an eye injury or a severe infection may call for immediate care. Your eye doctor can evaluate the situation and prescribe the appropriate treatment.

Glaucoma Management - If eye pressure measurements indicate glaucoma, we can help you manage the condition. Many patients require nothing more than medicated eye drops or oral medications.

LASIK and Cataract Co-Management - We can provide pre-operative and post-operative care and testing for LASIK and cataract removal surgeries.

In-House Optical Lab - If you need corrective lenses, you can get them right here. Our in-house optical lab can prepare accurate corrective lenses to order.

Prescriptions Filled - If you require eye drops or other medications, we can fill your prescription on the spot for quicker, more convenient treatment.
Proudly Serving Lancaster, NH, St. Johnsbury, VT, Montpelier, VT, and Littleton, NH
The only thing better than a full-service eye care center are four full-service eye care centers. Shippee Family Eye Care maintains offices in Lancaster NH, St. Johnsbury VT, Montpelier VT, and Littleton, NH to ensure that you always have convenient access to your favorite family eye doctor. Call any of our offices today to schedule an appointment and take full advantage of our services!