Computer Vision FAQs by our Optometrist at Shippee Family Eye Care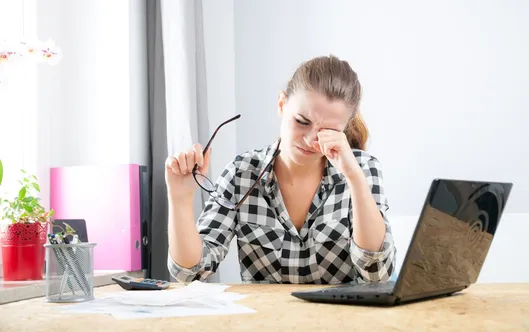 Many people interact with computer screens for several hours every day for work, school and at home, as well as the smaller screens on their laptops, tablets and smartphones. Staring at bright screen many hours each day can lead to computer vision syndrome. At Shippee Family Eye Care, our goal is to preserve the vision and good eye health for each patient that comes through the doors of our three offices in Montpelier, Lancaster and St. Johnsbury. This includes professional optometry assistance with computer vision syndrome.
What Is Computer Vision Syndrome?
Computer vision syndrome is a term for a set of problems affecting the eyes and vision that are the result of using computers, tablets and other mobile devices. Professionals also refer to the condition as digital eye strain. The more hours each day that you stare at screens, the greater your discomfort can be.
Causes of computer vision syndrome include glare on the screen, sitting with bad posture, bad lighting and sitting too close to the screen for prolonged periods.
What Are Symptoms of Computer Vision Syndrome?
Symptoms include blurred vision, dry eyes, eye strain and pain in the neck and shoulder. A professional is needed to make a diagnosis of computer vision syndrome.
How is it Diagnosed?
We diagnose computer vision syndrome by taking a full patient history, testing visual acuity and determining what strength corrective lenses should be.
We also check how you focus and move your eyes, seeing how they work in tandem to create a single image of whatever you are looking at.
How Can My Optometrist Treat Computer Vision Syndrome?
Optometry professionals at Shippee Family Eye Care have years of experience diagnosing and treating computer vision syndrome. To begin, you might require corrective lenses for a previously undiagnosed vision deficiency. We can give you a prescription for new glasses or contacts right after your examination. Our team will be happy to help you pick out glasses frames too.
After your consultation and examination, your eye doctor has a range of options to treat computer vision syndrome. For example, we might prescribe new eyeglasses with a more accurate prescription. We can offer lenses with tinting as well as coatings that will maximize comfort and your ability to see.
Set an Appointment for an Eye Exam and Computer Vision Syndrome Evaluation at Your Optometrist Today
If you are experiencing symptoms of digital eye strain or are concerned about contracting computer vision syndrome, it's best to come in as soon as possible so we can give you a thorough eye exam and consultation.
To learn more about how your preferred optometrist can treat computer vision syndrome or if you are ready to make an appointment for a member of your family in St. Johnsbury, Montpelier or the greater Lancaster region and beyond, please contact Shippee Family Eye Care today.