Comprehensive Eye Exams with our Optometrists in Lancaster, St. Johnsbury, and Montpelier
Maintaining your vision and keeping your eyes healthy starts with the right treatment. In our clinics, we offer eye exams that help you maintain your vision by catching potential concerns at an early stage. Our optometry clinics in Lancaster, St. Johnsbury and Montpelier help you find the right strategy to keep your eyes healthy.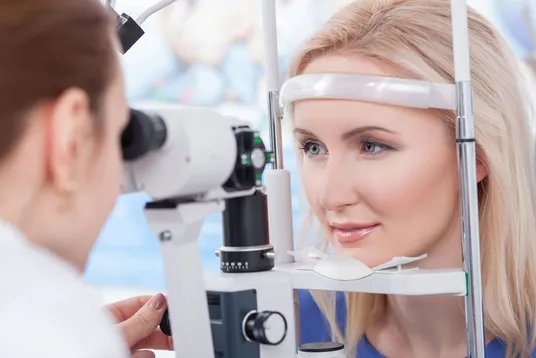 Basics of Eye Exams
Eye exams play an essential role in the health of your eyes. They are more than a simple vision exam that checks on your current vision. The exams look for more complex concerns and complications.
In our clinic, we offer exams for children, adults, and seniors. Our exams depend on your age and concerns we identified in previous exams and the time since your last vision exam. We offer different types of exams based on your vision and eyes.
Types of Exams We Offer in Lancaster
The types of exams we offer in Lancaster, St. Johnsbury and Montpelier depend on your eyes and concerns. A basic exam focuses on vision screening and checking on your prescription. We check on your vision and any changes to your vision since your last visit to our clinic. The exam focuses on a chart and clarifying your current vision. We may check for astigmatism or similar concerns.
A comprehensive eye exam differs from a simple vision exam. In a comprehensive check-up, we look for any problems with your eyes. We may measure the pressure in your eyes to identify the risk of glaucoma. Our optometrist also looks into your eyes with appropriate tools to check for any damages to your eyes. We may identify different conditions with the tests. We recommend regular comprehensive exams for all age groups. We may suggest more regular exams for children and seniors because of changes to their eyes.
Contact lens exams differ slightly from other exams and screenings. The exam measures your eyes and checks on your vision. We also make sure you do not have any eye conditions that prevent you from wearing contacts.
What to Expect from our Optometrist
Our optometrist offers different tests and screenings based on your concerns. When you visit our clinic, we may ask questions about your medical history. We explain the different tests and check on your vision. We may use different tools to look into your eyes or measure specific problems with your eyes. The exams do not take long, but you want to plan for one hour or more when you need a comprehensive exam.
Contact Us for a Comprehensive Eye Exam Today
Comprehensive eye exams play an essential role in maintaining your vision. To learn more about our eye exams or to set up an appointment with our optometrists, you can reach us at our location in Lancaster, NH at (603) 788-3561, our location in St. Johnsbury, VT at (802)748-3536, or our location in Montpelier, VT at (802)223-7723 today.