Macular Degeneration Service From Our Optometrists in Lancaster, St. Johnsbury, and Montpelier
Macular degeneration is often referred to as age-related macular degeneration (AMD) because it most commonly occurs in individuals over the age of 60. AMD does not typically cause pain, but you will notice a gradual loss of your central vision. If you've noticed any recent changes in your vision, you should schedule an appointment with our optometrists in Lancaster, St. Johnsbury or Montpelier for our AMD eye care service.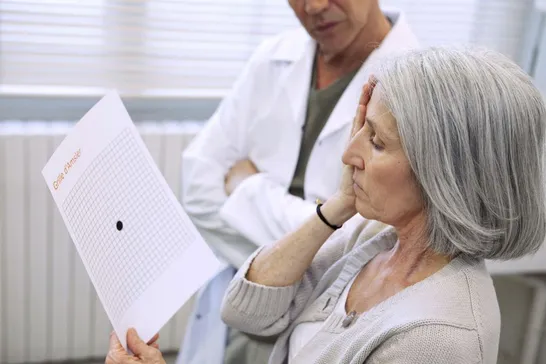 Macular Degeneration
Macular degeneration is a condition that causes the slow deterioration of the macula, which is responsible for central vision. It most commonly occurs in individuals aged 60 and older. Additional risk factors include having a relative that has been diagnosed with AMD, smoking, being overweight and having certain chronic conditions, like diabetes and high blood pressure.
AMD Types
There are two types of AMD. The first type is dry AMD. Dry AMD is the first stage of the disease. It is diagnosed when the presence of yellow deposits are seen on the macula. In the earliest stages, the presence of yellow deposits, also called drusen, do not cause any changes in vision. However, as the drusen grow in size and become more numerous, they do negatively affect visual acuity.
The second type is Wet AMD. Wet AMD occurs when the blood vessels surrounding the macula start to bulge or leak. As the condition worsens, the body creates new blood vessels. Unfortunately, these blood vessels are extremely fragile and tend to cause further leaking in the eye, which can dramatically decrease your visual acuity.
Signs You Need Eye Care for AMD
The primary symptom of AMD is a slow loss of central vision that starts with blurry vision and progresses to a dark spot in your central vision. You may also have AMD if you view a grid or straight line and the lines appear wavy or distorted.
Diagnosing and Treating Macular Degeneration
Our optometrist can diagnose your AMD and recommend a course of treatment. Diagnosing AMD involves a comprehensive eye exam that tests your visual acuity along with a dilated eye exam to examine the back of your eye, including your macula, retina and the surrounding blood vessels. If the presence of drusen is observed, you will most likely be diagnosed with AMD.
Treatments for AMD revolve around preventing the progression of the disease and vision loss. In the early stages, adding certain supplements to your diet, like omega-3 fatty acids, and increasing your eye care visits may help prevent AMD advancement. In the later stages, you may need treatments to remove leaking blood vessels and stop new blood vessels from growing. Our eye doctor can recommend the right treatments for you after your eye examination.
Call Our Eye Doctor in Lancaster Today!
To learn more about our AMD treatment services and to schedule a comprehensive eye exam with our eye doctor in Lancaster, call us today.